Reproduced from 'The Kensington Magazine'
Restaurant Review
W8 CATERING
By Ffiona
Earlier this week I enjoyed my morning coffee in the company of Prince Charles and Naomi Campbell whilst Sir Richard Branson perused a Trailfinder's brochure and Gordon Ramsey looked on belligerently. Where was I? I was sitting in W8 Catering with a delicious coffee, reading the newspapers and admiring their wonderful mural depicting all the above!
W8 Catering was founded by Fiona Gooley nearly twelve years ago. It offers eat in or takeaway food from Monday to Friday that is both imaginative and delicious. There are daily specials: Thai green curry, breaded haddock, beef and onion pie, a vegetarian option and a daily pudding. Then there is a range of daily salads: pea, mint and new potato, chicken Ceasar, mixed rice with pomegranate and broad beans and a beetroot with walnuts and stilton to mention just a few.
Everything is so fresh and colourful that it's really hard to choose what you want. The staff are friendly, welcoming and knowledgeable about the food that they serve, highly unusual! The W8 team is expertly led and they will take care of all your catering needs, not just your lunch. They explained that they also offer a very extensive outdoor catering service to both private homes and local offices. They make all their own canapes and have just designed their Christmas menus: brie crostini with cranberries and walnuts, quail egg and prawn tartlets, mini Yorkshire puddings filled with sage and onion stuffing, free range turkey and cranberry chutney, devils on horseback and many more. There are also finger and fork food menus, with an excellent selection of Indian, Oriental and English delicacies on offer.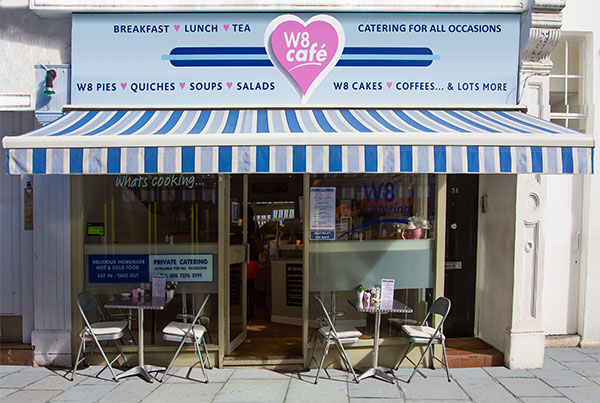 They offer: wraps, sandwiches, mini rolls, children's party menus, afternoon tea, buffets, picnics in the park, informal suppers for home (prepared on your own dishes if you wish), they can even tailor make your own barbeque and provide staff, if needed.
Look behind the door and you will discover one of Kensington's hidden gems. So whether its cottage pie and apple crumble for forty people or just tea for two, W8 Catering have got it covered.
W8 Catering,
3, Abingdon Road,
Kensington, W8 6AH
020 7376 2191
info@w8catering.com