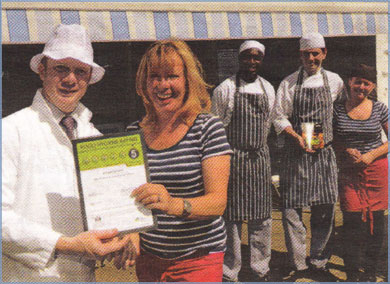 Above: Environmental Health Officer Tim Bage presents a food hygiene rating certificate of five to a delighted Fiona Gooley and her team from W8 Catering, Abingdon road, Kensington.
national food hygiene scheme
Raising standards
Customers visiting food outlets in the Royal Borough of Kensington and Chelsea are being encouraged to check out the hygiene ratings of their chosen restaurant, café, takeaway or pub on the Food Standards Agency website at www.food.gov.uk/ratings
The Council's environmental health officers have inspected all the eateries in the borough to check that their hygiene standards meet the legal requirements. They then gave them a rating between zero, (urgent improvement necessary) and a top scoring five (very good).
The ratings are intended to give consumers a glimpse of what is going on in the kitchen when they eat out, or behind the scenes at their favourite food shop, and help them decide which places they would rather visit.
After being inspected, businesses are given a sticker and certificate and encouraged to display it prominently at the entrance.
Mrs Fiona Gooley, from W8 Catering in Abdingdon Road, Kensington, said: "We were delighted to achieve a five rating, it is nice to know that food businesses such as us receive recognition for our efforts.
"We hope itwill lead to increased customers who will choose W8 with confidence and provide an incentive for other food businesses to improve iheir standards."
Cllr Fiona Buxton, the Royal Borough of Kensington and Chelsea's Cabinet Member for Environmental Health, described it as "a very useful scheme which allows residents to make informed decisions about which restaurants to visit or which food outlets to shop at".
She added: "The ratings are based on findings of inspections by the Council's environmental health officers who will often make surprise visits so they can to get a proper view of what goes on in the kitchens and back rooms. lt also highlights premises which need attention."