Reproduced from 'The Sunday Times'
It's round the corner...
and doesn't send me up the wall
Michael Winner - 'Winner's Dinners'
Where I live, Holland Park, is a restaurant catastrophe area. It could be saved by Philip Howard of the Square in Mayfair. He's a two-star Michelin chef I greatly admire who makes the best cinnamon doughnuts in the world. Philip's taken over a ghastly restaurant in Abingdon Road called Bistro 11, which never had any diners except me when I wrote a review of total condemnation. Philip intends to re-open it in late October under a new name. A few doors away, there's a delightful little place called W8 Catering. It has a counter full of salad, chilli chicken, baked cod with pancetta, chicken korma, pasta bolognese and some delicious-looking desserts. It's for local workers to buy takeaway food or eat at bar seats. In the back and on the pavement are some tables.
The boss is ex-air hostess Fiona Gooley, married to Mike Gooley, who owns and founded the travel agency Trailfinders. Fiona caters for his staff who all get free meals. That alone accounts for 2,000 lunches a week. "I had to marry him to get the contract," explained Fiona.
Mike is ex-SAS and looks it. When he joined Geraldine and me for lunch I expected him to come through the window on a rope and chuck CS gas all over the place, followed by a burst of machinegun fire. Instead he sat meekly at a pavement table. "The council kept telling us to remove the tables because they were clutter obstructing the footpath," explained Fiona. There are two of them. I didn't notice any pedestrians inconvenienced.
With outstanding logic Kensington and Chelsea council then decided if Fiona paid £720 to apply for a licence, it may conclude the tables weren't obstructing anyone and she could keep them there. That for a mere five-days-a-week licence. The £720 being non-refundable if the licence wasn't granted. Seven hundred and twenty pounds to reject a licence. Pavement robbery. As the tables have been there 10 years with no complaint, and the whole area is alive with the sound of chairs scraping on sidewalk, I shall closely watch and report on what happens when the council gets the application.
Mike drives an Aston Martin. I'm always suspicious of cars like that, having had a Ferrari which spent more time in garage repair shops than it did with me. It was always going wrong. "The Aston's four years old and it's finally working properly," said Mike. A wasp appeared. "You're in the SAS, deal with it," I said to Mike.
I had chilli con carne and then beef meatballs with feta cheese. Both very nice. They'll be even better in winter when they're kept on a hot plate, in the area now used for salad, and not re-heated in the microwave.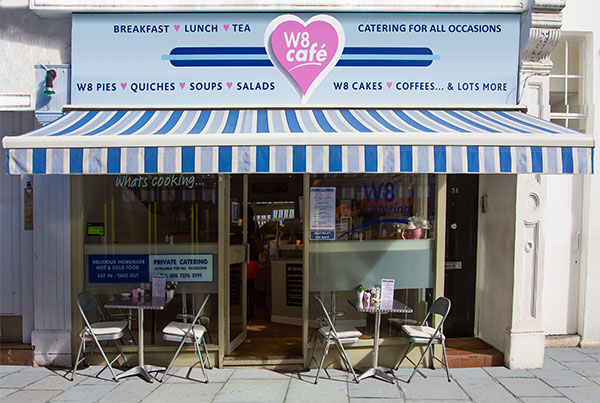 At home I later tried its lamb curry. Splendid. The desserts were beyond belief historic. The apple crumble, made, as is everything, daily in its kitchen, was the best I've ever eaten. The giant fairy cake, shaped like a mushroom with pink icing and big white spots on top had superb texture and taste. The icing was perfect.
This is an oasis in the culinary desert of Abingdon Road and its environs. When Philip Howard comes there could be two. That makes it oases, doesn't it? Who cares? Just get some good food near my house. I deserve it.